Revolutionizing Web3 Gaming: Satsuma Partners with Ronin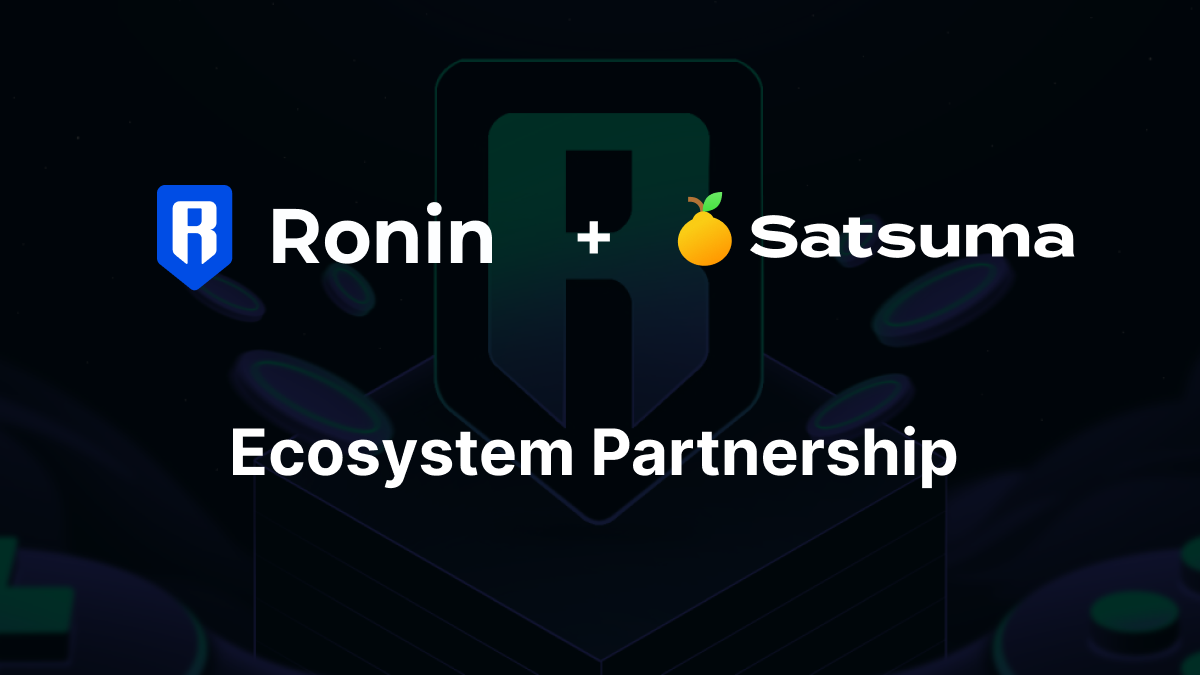 We are super excited to announce a partnership between Satsuma and Ronin, a milestone in our ongoing mission to enable better web3 dApp experiences.

Ronin is an EVM blockchain specifically forged for gaming. Launched by Sky Mavis, the creator of Web3's breakout title Axie Infinity which has generated over $1.3B in revenue, Ronin is the only blockchain proven to scale a single game to accommodate millions of daily active users and has processed over $4B in NFT volumes. Ronin optimizes for near-instant transactions and negligible fees that enable millions of in-game transactions to occur seamlessly, making it the leading choice for Web3 games.

"Reliable Subgraphs are a crucial component of developing top quality dApps. In order to offer the best-in-class developer tooling for our ecosystem, the Ronin team has researched multiple solutions in the market and found Satsuma to be a perfect fit for its speed and reliability. As a bonus, Jonathan and the rest of the experienced Satsuma team has been an absolute pleasure to work with," commented Bailey Tan, Director of Ecosystem Strategy.
As we have done with other partners, we're diving deep with Roninto assist game developers in launching their products faster and providing top-tier user experiences. Ronin's high data throughput means that performance is incredibly important. With Satsuma's high-speed subgraph indexing platform, we're saving their developers countless hours and ensuring snappier load times for their users.


"The Satsuma platform's simplicity and ease of use allowed us to manage our own subgraphs with less effort and cost. The high-speed indexing capabilities expedited the migration process, saving us valuable time and resources. Thanks to Satsuma's high availability and low latency, our dApps now run more efficiently, providing an improved user experience. We're thrilled to be working with Satsuma and helping other developers on Ronin get acquainted with their services." commented Timm Meisinger, Ronin Ecosystem Engineering Lead.
Ronin is not just a blockchain; it is a game-optimized ecosystem backed by Sky Mavis, the creators of the #1 gaming project by adoption and all-time volume—Axie Infinity. The partnership with Satsuma empowers developers within the Ronin ecosystem to focus on developing exceptional gaming experiences while leaving the complexities of data indexing to us.

Furthermore, developers on Ronin receive free white-glove onboarding and priority support from Sky Mavis and through Satsuma. This ensures smoother, faster-running dApps and enables developers to concentrate their efforts on creating engaging, next-level games.

We're more than thrilled about this partnership and look forward to witnessing the incredible games that will be developed within the Ronin ecosystem with the support of Satsuma. If you're a web3 game developer on Ronin, come join Satsuma and leave the data indexing to us! 🍊🎮